Our Definition of Sustainable Investing
What is it?
Integrated ESG incorporates material ESG risk considerations into the investment process – across all asset classes – to seek better risk/return profile.
Using analytical framework to manage tail risks and/or weaknesses in a company's E, S and G profile.
How does it work?
Based on the risk analysis, the investment professionals are free to invest in the full, unconstrained universe of securities - provided they demonstrate a complete understanding of material ESG risks. Further, ESG analysis is an integral part of fundamental research, which means there is no ESG overlay.
What's the outcome?
Experience shows that avoiding large portfolio drawdowns through ESG risk management can contribute to better risk-adjusted returns. Already, research analysis suggests that companies with high ESG ratings can deliver greater shareholder value.
Sustainable and Responsible Investing (SRI):
SRI strategies aim to create a sustainable portfolio by combining financial and sustainability assessments in investment analysis and portfolio construction.
What is it?
The objective of a SRI strategy is building a sustainable portfolio by delivering sustainable financial returns based on an assessment of ESG practices.
These offerings target both SRI and potential financial return through a number of different approaches
Focused investment universe
ESG quality often determines eligibility for portfolio and influences weightings
How does it work?
SRI Best-in-class strategies support sustainability efforts of portfolio firms and, thereby, can improve investment returns
Financially material and non-material ESG factors are part of a company´s analysis
Portfolio construction is geared towards a superior ESG quality and a set of exclusions is applied
The set of exclusions as indicated below is the sample that could applied to Sustainable and Responsible Investing solutions1: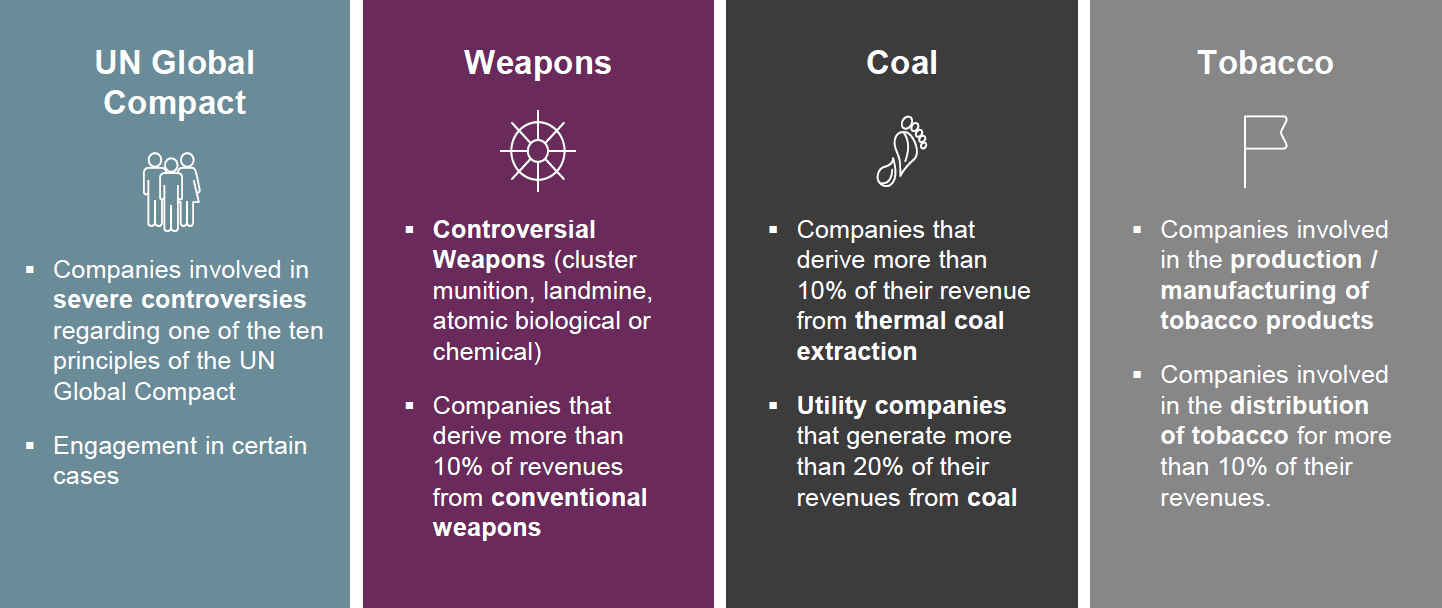 Source:
1 Allianz Global Investors; Sustainability Capabilities Pitch Book. January 2020.
What's the outcome?
The SRI offering appeals to clients who want their investments to generate financial value and, at the same time, reflect their own values. SRI strategies seek to provide improved risk-adjusted returns alongside positive environmental and social outcomes.
Lowers reputational risk.
Rewards sustainability leaders in their respective sectors and fosters positive societal outcomes.
Climate engagement with outcomes:
What is it?
Climate Engagement with Outcome combines exclusions and engagement with outcome to encourage companies on their climate pathway
Engagement targets are defined by peer comparison and realistic climate ambitions per sector
How does it work?
Climate Engagement with Outcome aims to engage the top emitters of the portfolio
The achievement of these targets will be regularly tracked and reported
What's the outcome?
Climate Engagement with Outcome shall drive corporates towards climate transition pathways
Targets to improve risk adjusted returns by helping companies to adjust their business model for the low carbon economy
The 17 global Sustainable Development Goals2,3 (SDGs) were set by the UN General Assembly in 2015 as a way of achieving a better and more sustainable future by 2030. With the UN Commission on Trade and Development (UNCTAD) estimating that meeting the SDGs will require USD 5 trillion to USD 7 trillion in investment each year2,3, large capital investments are crucial to meeting the targets detailed under SDGs Investing for positive change.
What is it?
Since they were launched in 2015, the UN SDGs have come to represent a global call to action for stakeholders from all countries to address the greatest barriers facing society. Business has a clear role to play and the goals have developed into an increasingly important tool for assessing the impacts of companies on society more comprehensively.
The 17 Sustainable Development Goals (SDGs) are an urgent call for action by all countries - developed and developing. They recognise the need to spur economic growth whilst placing attention on reducing poverty, enhancing distribution of wealth, and protecting the environment and natural resources, all at the same time. The SDGs build on decades of work by countries and the UN. More and more investors are aligning their portfolios to the SDGs and are utilising them as a framework for measuring the effectiveness of their impact investing activities.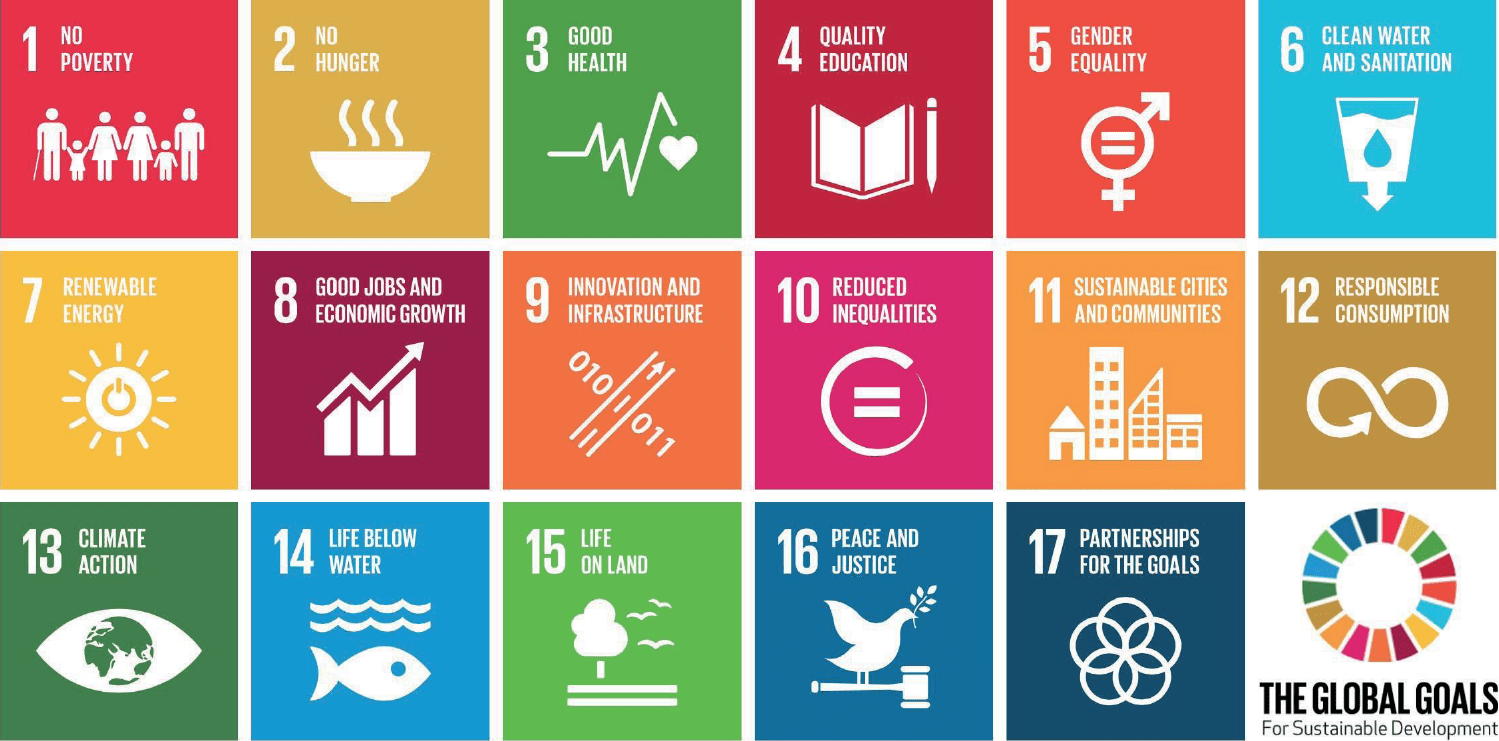 Source:
2 United Nation's 2030 Agenda for Sustainable Development; September 2015.
3 GIIN: Financing the Sustainable Development Goals: Impacting Investing in Action; September 2018.
How does it work?
Nowadays, a growing number of investment solutions are targeting companies and activities that support and facilitate positive change towards achieving one or multiple SDGs. Therefore, investors can choose investment solutions which address these SDGs via Impact Investing strategies and SDG-aligned investments.
What's the outcome?
Investors are beginning to realise that they have the power to make an impact by choosing where and how to invest their capital. Investing with sustainability goals in mind allows investors to influence the way the economy works or how a company behaves through the allocation of capital. It can drive innovation by channelling money towards new technologies, reinforce positive behaviour by rewarding good practices, and impact the entire economic value chain. Furthermore, designated strategies can make investments with a specific goal in mind, such as addressing the need for clean water or curbing carbon emissions.
What is it?
The objective of Impact Investing is to enable investors to maximise their exposure to positive environmental and social outcomes in private and public markets by offering a choice of impact investing solutions across asset classes.
How does it work?
The Impact investment approach is defined by three core beliefs:
Intention: the intention is to generate incremental positive social and/or environmental value while delivering financial returns.
Association: there is a clear association between each investment and the positive output delivered.
Measurement & report: the impact will be measured on a best efforts basis.
Private market impact investing is able to directly measure its impact and demonstrate causality between the investment and the impact generated. By nature, public market investments may provide less documentation to achieve this, however the market is developing, with the likes of green and social bonds offering levels of documentation that enable investors to measure and report outcomes in a similar manner to private market impact investments.
What's the outcome?
Generally, both public and private market impact investing solutions have the clear intention of generating societal benefits, often aligned with the UN SDGs, and provide evidence of the associated positive outcome. Through the mix of private investments, impact investing can generate largely uncorrelated and potential attractive financial returns for clients while delivering environmental and/or social impact.
Private Markets: In comparison to public markets, private market impact investing, due to the nature of its investments, is often able to directly measure its impact and has demonstrated causality between the investment and the impact generated.
Public Markets: There is typically an association between the investment and the positive output delivered aim to generate intentional and specific societal benefits. Evidence of impact is often via engagement with the company. These impact investing solutions provide clients with the opportunity to co-finance a sustainable future and generate societal alpha potential.