Active is: Embracing renewable energy
Energy transition and sustainable resourcing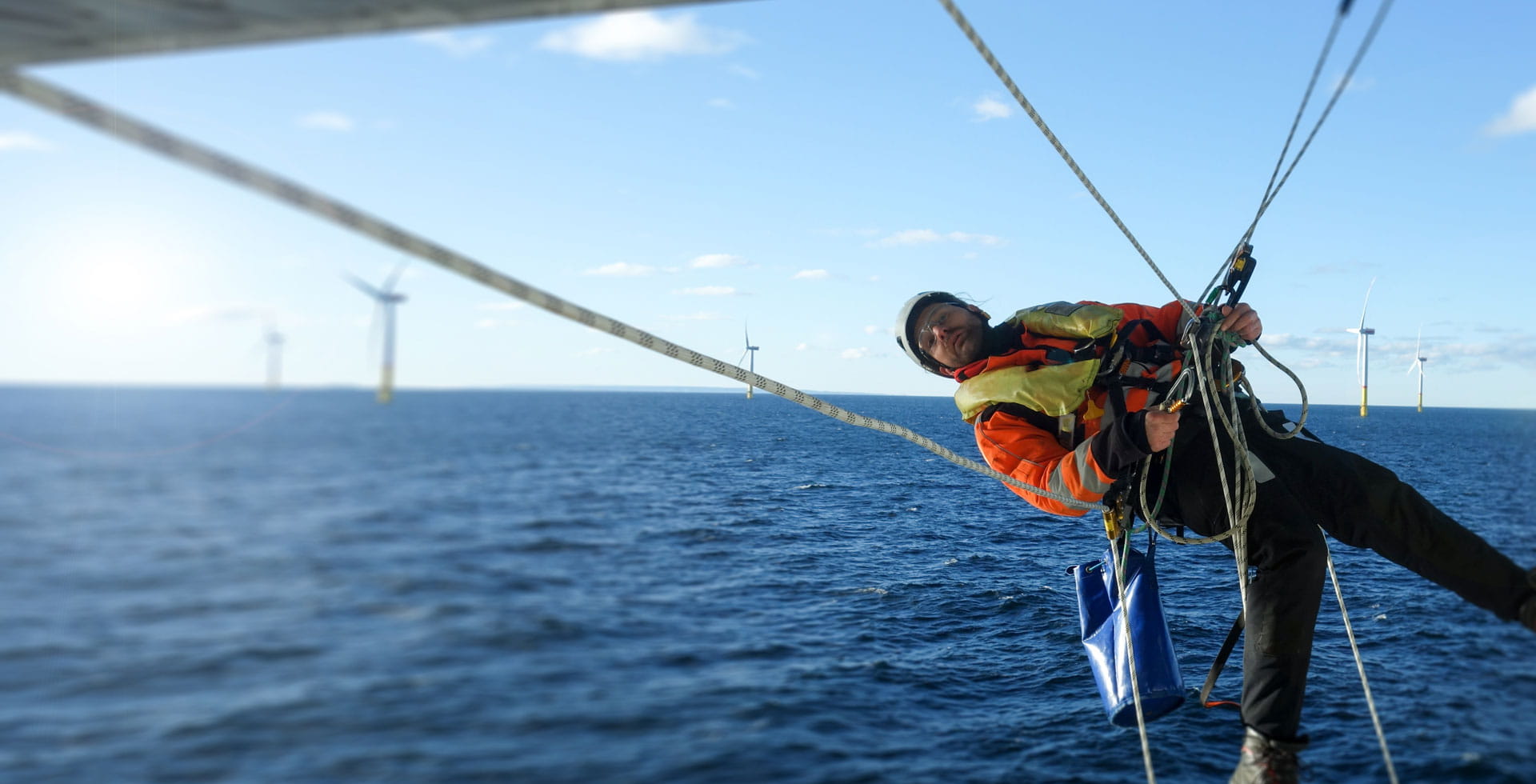 Summary
Climate change is shifting investor priorities and driving wider adoption of sustainable business models, which seek to "meet the needs of the present without compromising the ability of future generations to meet their own needs".
Key takeaways


Investors are increasingly looking to integrate climate risk into their asset allocation and reduce the carbon footprint of their portfolios
Despite growth in renewable infrastructure, global warming continues, and legacy issues will continue to hamper progress
Energy storage will drive disruption across several industries and will be a central theme in the ongoing evolution of renewable energy
It is clear that climate change can no longer be ignored. This summer Europe has faced another unprecedented heatwave while the US has experienced extreme weather events such as drought, wildfire, and flooding. Globally 20 of the past 22 years have been the warmest on record.

As the frequency and magnitude of weather shocks are only expected to amplify, years of political inertia are finally being addressed. This is highlighted by over 1951 countries signing the UN's Paris Agreement in a bid to limit temperature increases to 1.5 degrees Celsius. Many of these countries are also starting to implement domestic policy to reduce carbon emissions.

Our own client base is showing a change in attitudes towards ESG2 (environmental, social & governance) issues as investors actively seek to integrate climate risk into their asset allocation, and reduce the carbon footprint of their investment portfolios.

Global surface temperature anomalies, 1910-2018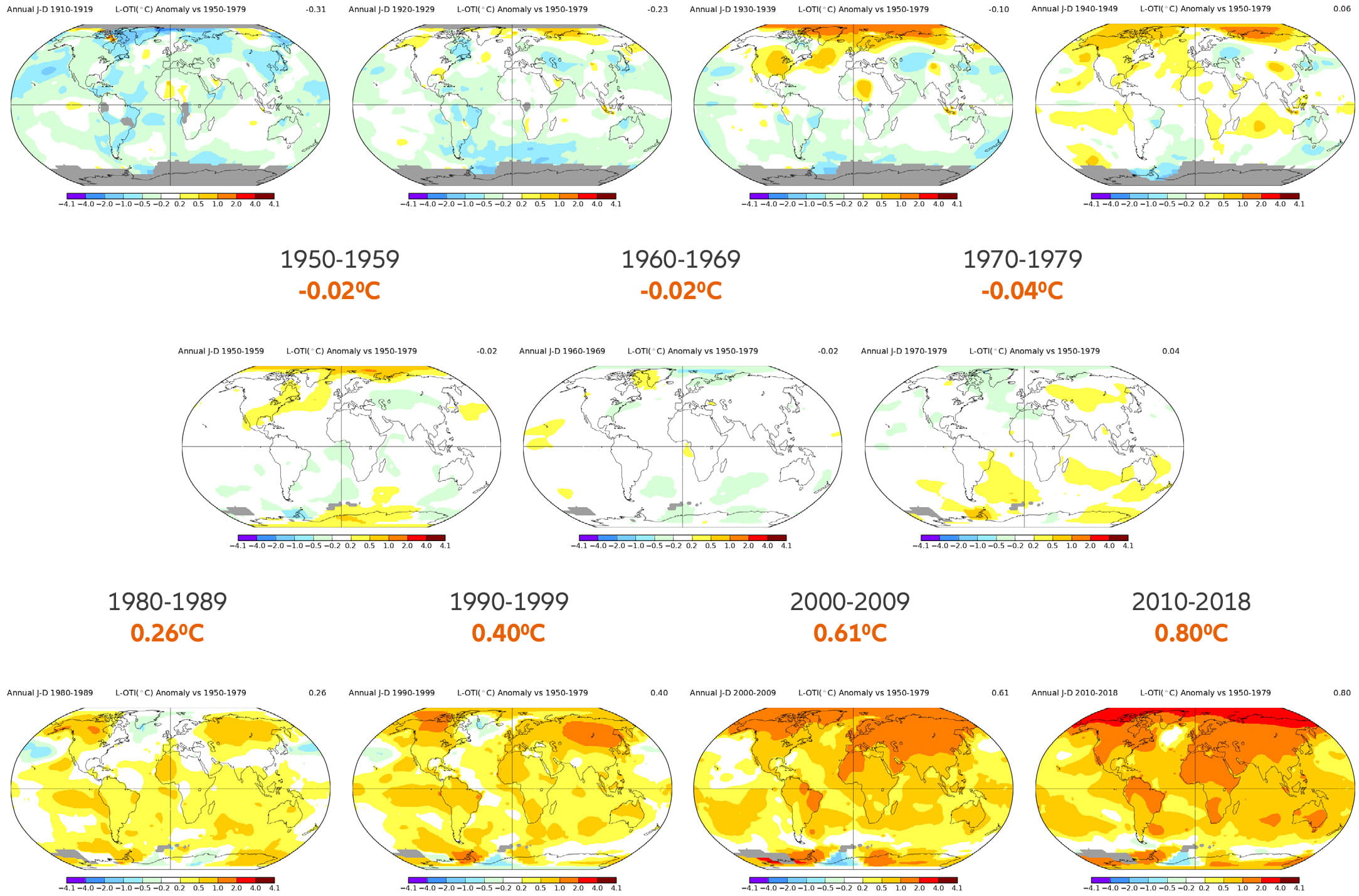 The average temperature anomaly per decade, compared to a baseline of 1951-1980. Data: NASA Goddard Institute for Space Studies Surface Temperature Analysis


The global drive towards decarbonisation is predominantly focussed on the production and consumption of energy – through reducing carbon intensity and improving energy efficiency. Traditionally energy has been produced through the combustion of carbon-heavy fossil fuels such as oil and coal. The move towards clean energy has led to a shift towards new sources of production, like wind, solar, hydropower (energy converted from flowing water), or biomass (harnessing energy from animal and plant material). 2018 was the fifth consecutive year where more than USD 300 billion3 was invested in clean energy globally. Much of this increased investment is derived from asset finance, via dedicated fund vehicles, as investors seeks to implement impact strategies into their asset allocation.

We believe there will continue to be a plethora of opportunities across the entire supply chain as business models look for alternatives to raw materials, and as new technologies emerge.


Sustainable business models have further to go
However, the implementation of renewable infrastructure has so far not offset the rise in global warming. Many of the factories, vehicles and home appliances currently in operation still have a long lifespan remaining. Companies will soon need to address early "retirement" for such infrastructure if they are to avoid holding expensive "stranded assets"4 as legislation, regulation and market forces change. The resulting increased share of renewable resources in energy generation will disrupt the entire value chain – from production through to asset retirement – and should create permanent change.

Solar and wind power are likely to be the most prominent energy producers. Historically the uptake of renewable energy has been limited by issues around cost and energy storage. However, increased construction of renewable energy farms has seen costs diminish dramatically. And technological innovations have addressed storage issues; energy can now be stored whenever production outweighs consumption, and distributed later, whenever demand surges. Previously, energy production typically centred on the use of oil, which meant the pace of innovation was often reactive to the oil price. For example, the 1979 oil crisis caused years of price disruptions, forcing consumers to change their consumption patterns, and industries to design more energy-efficient products. The UK looked for more cost- and energy-efficient methods of insulating homes; the upshot was that the use of double glazing – which increases thermal efficiency – skyrocketed.

The energy transition resulting from the evolution of grid storage and battery-powered technology will likely disrupt a broad spectrum of industries, from transport and electric vehicles to refrigerators on shipping containers. Despite homes being better insulated, over 36% of global energy is still consumed by buildings, so construction is another area of potential disruption.

Urbanisation is intrinsically linked to climate change and the development of smart cities should help improve energy efficiency, as technology and hard infrastructure connect houses and other buildings to localised microgrids. Improved insulation, heating and cooling efficiency, lighting and appliances are also fundamental in tackling the challenge of energy delivery and management.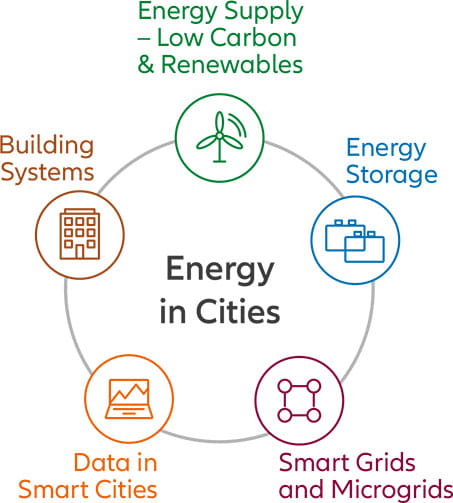 Despite an increase in private investment, funding storage technology has not been a priority for governments, contributing to slow progress and uncertainty. Corporates now face tougher environmental policies and regulatory reform, yet governments have not stipulated an end-goal or a framework to follow.

Subsequently many businesses are likely to incur unquantifiable risks and costs in the transition to decarbonisation. There is no silver bullet to resolve this issue, and solutions may be industry-specific. Highemission industries, such as aviation for example, may be willing to reduce their carbon footprint but will struggle to create an immediate impact.

Solutions such as carbon offsetting – allowing industry time to research and develop long-term potential solutions – may be a better method and will create more impact within specific industries. Accordingly, the private sector needs to work with governments to drive the transition forward and determine what a global pathway should look like. This could lead to a substantial investment opportunity for those willing to engage.


Energy storage offers possibilities for evolution
As energy production, storage and utilisation evolve, we believe decarbonisation will remain a mainstream investment theme. We expect more regulations to drive down carbon emissions and promote energy-efficient policy.

At Allianz Global Investors, we believe we have a duty to our clients to offer investment capabilities which seek to positively contribute to energy transition. As active investors we look to capture the intentions of companies and determine whether they are willing to change.

Screening companies and excluding those with poor ESG ratings from the investment universe is a common approach to climate investing. But the active engagement that underpins our stewardship approach instead allows investors to access those companies that are demonstrably addressing any issues, whether by reducing emissions, or developing potential solutions to help generate a positive impact by contributing to energy transition.

Energy transition is a good example of how disruption is not limited to technological change, but is also driven by demographic shifts and changing attitudes. For those companies willing to change and tilt their products towards the priorities of the emerging "Millennial" and "Generation Z" consumers, there is great opportunity.

We believe that incumbent firms who focus on "sustaining" rather than "evolving", will face increased reputational risks, as many established products will be carbon-intensive.

Climate risks must also be fought on social and moral grounds. As investors, this means a change in behaviour towards investee companies. Selectivity will become even more important as investors seek out the "winners" of the future and those who are willing to develop longer-term, low carbon solutions. If successful, decarbonisation should not only contribute to arresting climate change, but may also create attractive economic benefits and help reshape industries and financial markets.




1. https://treaties.un.org/pages/ViewDetails.aspx?src=TREATY&mtdsg_no=XXVII-7-d&chapter=27&lang=en
2. Environmental, Social and Governance (ESG) strategies consider factors beyond traditional financial information to select securities or eliminate exposure which could result in relative investment performance deviating from other strategies or broad market benchmarks.
3. Including Wind, Solar and other renewable sources of energy. Source: BloombergNEF, January 2019; https://about.bnef.com/blog/clean-energyinvestment- exceeded-300-billion-2018/
4. An investment is referred as a "stranded asset" if it becomes unlikely to earn a viable economic return before the end of its economic life. This tends to be as a result of changes due to the transition to a low carbon economy.



Investing involves risk. The value of an investment and the income from it will fluctuate and investors may not get back the principal invested. Past performance is not indicative of future performance. This is a marketing communication. It is for informational purposes only. This document does not constitute investment advice or a recommendation to buy, sell or hold any security and shall not be deemed an offer to sell or a solicitation of an offer to buy any security.

The views and opinions expressed herein, which are subject to change without notice, are those of the issuer or its affiliated companies at the time of publication. Certain data used are derived from various sources believed to be reliable, but the accuracy or completeness of the data is not guaranteed and no liability is assumed for any direct or consequential losses arising from their use. The duplication, publication, extraction or transmission of the contents, irrespective of the form, is not permitted.

This material has not been reviewed by any regulatory authorities. In mainland China, it is used only as supporting material to the offshore investment products offered by commercial banks under the Qualified Domestic Institutional Investors scheme pursuant to applicable rules and regulations. This communication's sole purpose is to inform and does not under any circumstance constitute promotion or publicity of Allianz Global Investors products and/or services in Colombia or to Colombian residents pursuant to part 4 of Decree 2555 of 2010. This communication does not in any way aim to directly or indirectly initiate the purchase of a product or the provision of a service offered by Allianz Global Investors. Via reception of his document, each resident in Colombia acknowledges and accepts to have contacted Allianz Global Investors via their own initiative and that the communication under no circumstances does not arise from any promotional or marketing activities carried out by Allianz Global Investors. Colombian residents accept that accessing any type of social network page of Allianz Global Investors is done under their own responsibility and initiative and are aware that they may access specific information on the products and services of Allianz Global Investors. This communication is strictly private and confidential and may not be reproduced. This communication does not constitute a public offer of securities in Colombia pursuant to the public offer regulation set forth in Decree 2555 of 2010. This communication and the information provided herein should not be considered a solicitation or an offer by Allianz Global Investors or its affiliates to provide any financial products in Panama, Peru, and Uruguay.

This document is being distributed by the following Allianz Global Investors companies: Allianz Global Investors U.S. LLC, an investment adviser registered with the U.S. Securities and Exchange Commission; Allianz Global Investors Distributors LLC, distributor registered with FINRA, is affiliated with Allianz Global Investors U.S. LLC; Allianz Global Investors GmbH, an investment company in Germany, authorized by the German Bundesanstalt für Finanzdienstleistungsaufsicht (BaFin); Allianz Global Investors (Schweiz) AG, licensed by FINMA (www.finma.ch) for distribution and by OAKBV (Oberaufsichtskommission berufliche Vorsorge) for asset management related to occupational pensions in Switzerland; Allianz Global Investors Asia Pacific Ltd., licensed by the Hong Kong Securities and Futures Commission; Allianz Global Investors Singapore Ltd., regulated by the Monetary Authority of Singapore [Company Registration No. 199907169Z]; Allianz Global Investors Japan Co., Ltd., registered in Japan as a Financial Instruments Business Operator [Registered No. The Director of Kanto Local Finance Bureau (Financial Instruments Business Operator), No. 424, Member of Japan Investment Advisers Association and Investment Trust Association, Japan]; and Allianz Global Investors Taiwan Ltd., licensed by Financial Supervisory Commission in Taiwan.

957028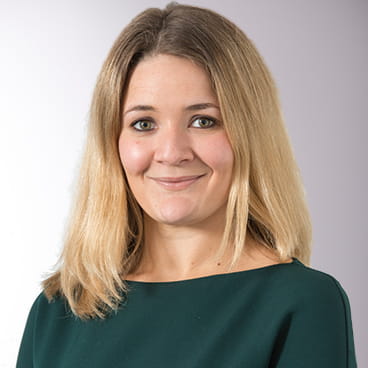 Stephanie Rowton
Investment Strategist
Ms Rowton is a London-based Investment Strategist with Allianz Global Investors, which she joined in 2011. She works alongside the Global Strategist and regional strategists to provide retail and institutional clients with investment insights, and to shape the global "house view". Ms Rowton is also a member of the Allianz Global Fundamental Strategy portfolio-management team. Before joining the Global Economics and Strategy team, she worked in Institutional Sales focusing on UK corporate pension plans and charity endowment funds. Stephanie has a B.A. (Hons) from the University of Manchester and has completed both her graduate diploma in law (GDL) and her legal practice course (LPC).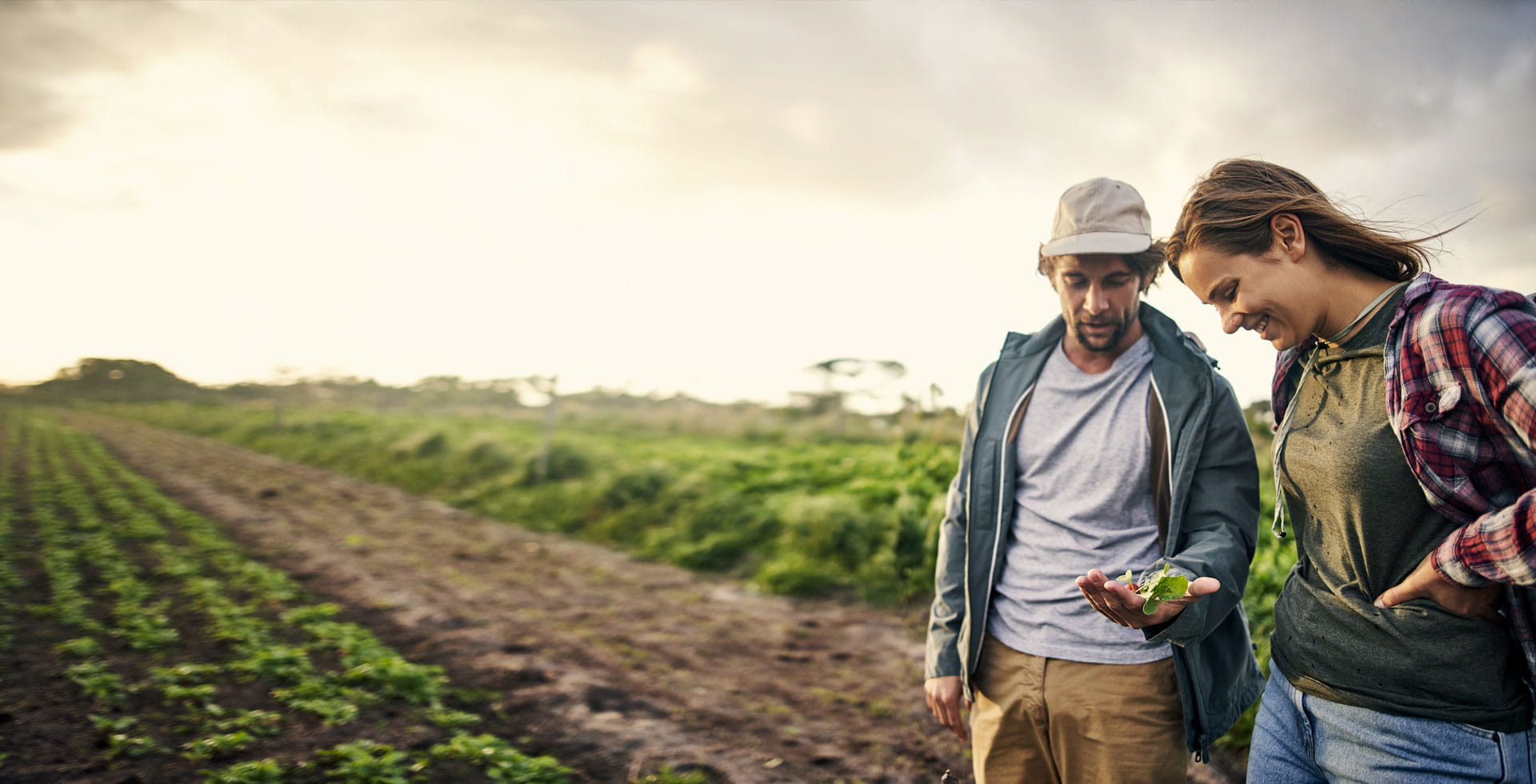 Summary
ESG factors have historically been more commonly associated with equity investments, but the past year has seen a significant change with fixed-income investors pushing for ESG factors to be appropriately and demonstrably integrated into investment analysis and risk decisions.
Key takeaways


Integrated ESG means the inclusion of environmental, social and governance factors in all investment process and risk decisions
The ESG focus relating to fixed-income investments has mostly concentrated on downside mitigation, but there is an opportunity to generate positive alpha from companies with improving and transitioning ESG profiles
A fully integrated ESG process draws on individual and collaborative expertise from diverse research teams covering ESG, equity and fixed income
The market has yet to adopt a common approach, with a debate around the merits of exclusion strategies compared with integrated ESG's ability to invest and engage with issuers on a transitional path